 Leading provider of social media scans throughout the United States
Are you and your staff spending hours digging through pages upon pages of internet and social media sites to find what you are looking for? Seaside Claims Services® specializes in risk management solutions by providing the most comprehensive social media investigations available.
There are many companies who will try to pitch automated social media searches and reporting, however, they simply are not as effective. After cross comparisons of results, there is no shortcut to good intelligence.
Seaside Claims Services® gets you right to the analysis phase, saving our clients countless hours on the Internet and reliable data-driven results.
Conducting online searches and compiling accurate social media
background reports is costly, tedious and time-consuming work. 
But it doesn't have to be!
Seaside Claims Services® combs through hundreds of online sources – web, social, images and video – to generate highly accurate social media reports that are more comprehensive than traditional searches, saving you hours of unnecessary manual work.
Why Partner with Seaside Claims Services®?
Three layers of quality control assurance to deliver comprehensive, accurate,
easy-to-consume reports – every time!
Highly trained social media analysts in combination with our sophisticated software.
Fully customized reports based on the specific requirements of your investigation
Going above and beyond to deliver superb customer service that our clients love!
A consistent client experience is our goal.
100% compliant – all data is captured in a legal and ethical manner.
Your Social Media Investigation Experts
Seaside Claims Services®? stands alone by combining a culture of personalized service based on trust, depth of experience, and a proven track record of measurable results, with a strategy to maintain quality over quantity.
Performing a robust, comprehensive and cost-effective social media investigation with targeted human intel can help minimize risk and combat fraud – protecting your business.
Sample Report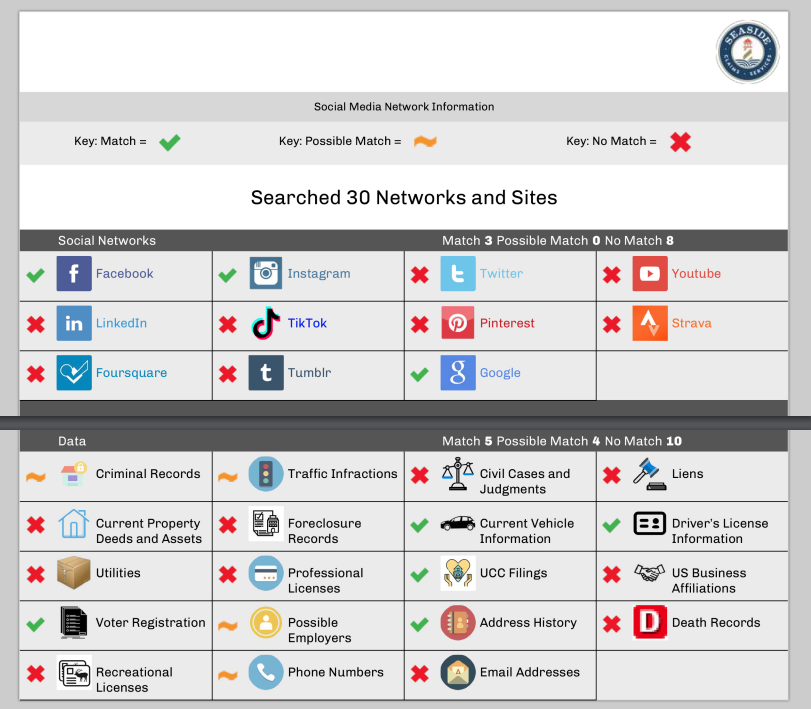 Get started today with our Social Media Investigation services. Don't waste time going down the social media rabbit hole.
Leave the detective work to us!
---