 Conducting online searches and compiling accurate social media
background reports is costly, tedious and time-consuming work. 
But it doesn't have to be!
Seaside Claims Services® combs through hundreds of online sources – web, social, images and video – to generate highly accurate social media reports that are more comprehensive than traditional searches, saving you hours of unnecessary manual work.
Why Partner with Seaside Claims Services®?
Three layers of quality control assurance to deliver comprehensive, accurate,
easy-to-consume reports – every time!
Highly trained social media analysts in combination with our sophisticated software.
Fully customized reports based on the specific requirements of your investigation
Going above and beyond to deliver superb customer service that our clients love!
A consistent client experience is our goal.
100% compliant – all data is captured in a legal and ethical manner.
Your Social Media Investigation Experts
Seaside Claims Services®? stands alone by combining a culture of personalized service based on trust, depth of experience, and a proven track record of measurable results, with a strategy to maintain quality over quantity.
Performing a robust, comprehensive and cost-effective social media investigation with targeted human intel can help minimize risk and combat fraud – protecting your business.
Sample Report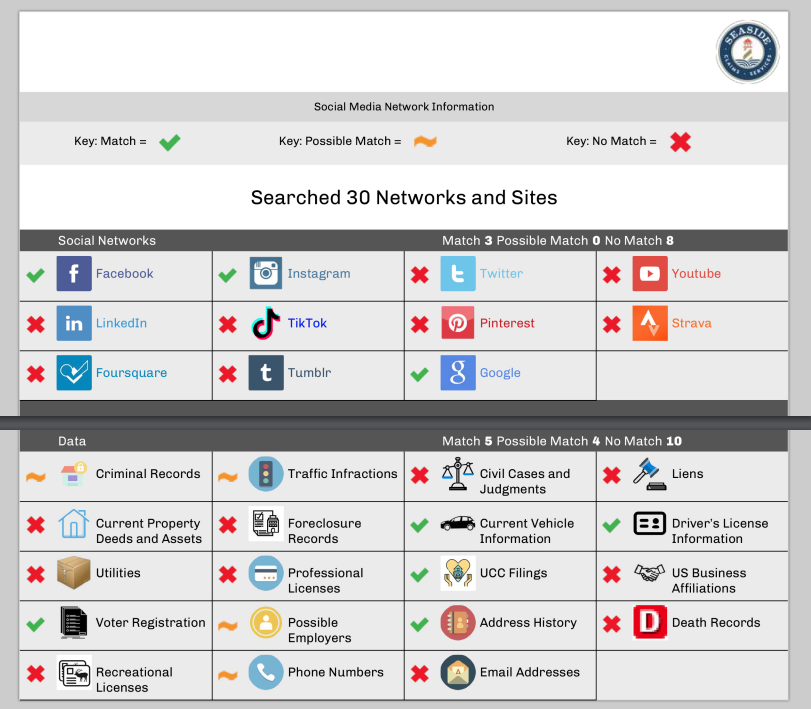 Get started today with our Social Media Investigation services. Don't waste time going down the social media rabbit hole.
Leave the detective work to us!
---
Surveillance
Surveillance is the ultimate tool in combating insurance fraud.
By gathering irrefutable video evidence of an individual clearly engaging in activities he or she claims are no longer possible because of an incident or accident, Seaside Claims Services® helps mitigate your organization's monetary exposure as a result of a claim. We combine extensive pre-surveillance research and years of fraud detection experience with an aggressive field strategy to secure the video evidence you need to fight a frivolous claim. The evidence gathered during surveillance efforts could, without a doubt, turn the tide of a case and better position the validity of a claim.
We achieve superior results by continuously striving to maintain an 85% or above video capture rate of the individuals we investigate. We provide accurate documentation that clearly displays the activities in which the individuals engaged in the surveillance efforts.
If the investigators you are currently using let you down on opportunities to obtain quality video of an active claimant, you need Seaside Claims Services®.
We're your best resource for investigating auto liability, Workers' Compensation, disability, and slip n' fall claims.
LOCATES
A hard-to-find individual can make things difficult for everyone involved in the claims process… from locating witnesses or individuals avoiding service of process to locating a claimant who is trying to "fly under the radar," in order to avoid being surveyed by our fraud investigators.
Seaside Claims Services® has a proven track record for locating individuals who are trying to hide or evade service.
Medical Canvasses
100 miles of the claimant's/subject's last reported zip code.
– Level 1 (15 Facilities)
– Level 2 (30 Facilities)
– Level 3 (45 Facilities)
Now delivering a higher quality product, with over a 60% improvement in speed. (4-5 day turnaround)
BACKGROUND SEARCH
Includes records of civil/criminal history, traffic infractions, sex offenders, arrests, and warrants, using multiple names, DOBs, and locations of the claimant.
ASSET SEARCH
Search includes records pertaining to vehicle/vessel ownership, properties, property deeds, property assessments, business ownership, UCC Filings, US Corporations.
COURT TESTIMONY/DEPOSITIONS
Court testimony and depositions will be billed at our hourly rate. Fees will be assessed for all materials, transcripts, evidence requested and time required to properly prepare.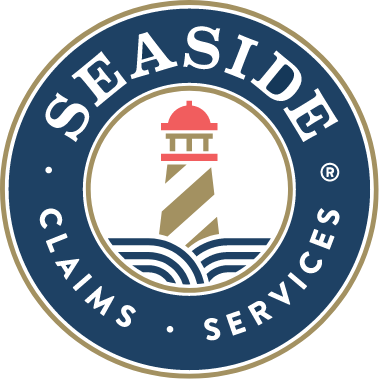 Contact Us
Let us know if you have any questions!